EAU CLAIRE — Ryan Piedt, a sixth-generation farmer whose family started farming in Eau Claire back in 1835, continues a family tradition to this day.
But instead of growing tree fruit, potatoes and strawberries, Piedt grows watermelon and hemp – the type of hemp that produces cannabidiol or CBD.
Hemp is a plant packed with chemical compounds that are also found, in a much lesser extent, in black pepper, black truffles, and cacao, the main ingredient of chocolate. Is that why chocolate make us feel so good?
This isn't a story on CBD versus THC (see below), it's about three entrepreneurs growing, harvesting and manufacturing a product that is said to be good for people's health and how it can be used in cooking.
Piedt, who co-owns BC Hemp Co. with partners Jeremy Dybdahl and Joel Mbungu, says that one of their reasons for growing hemp is that it is a product in demand.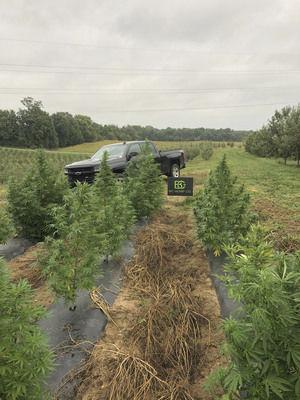 It's also a story of a group of young entrepreneurs continuing to make a living growing an age-old product but for a new purpose.
"A lot of agriculture has been in recession, especially for smaller farms," he says. "This was a way to stay with my family roots."
Growing hemp is a time-consuming proposition.
"Our research started Dec. 30, 2018," says Dybdahl. "We went to Kentucky and harvested an acre of hemp."
Harvesting time is important. You can't harvest early morning when there's still dew, so the perfect time is between 8:30 to 11 a.m. when the sun is out.
"It all has to be harvested by hand," added Piedt. "It takes about six hours."
Once that's done, the next step is to hang and dry the crop – the most crucial part of the process. Here, the hemp has to be removed from the plant using fans and dehumidifiers until the moisture level is down to about 10 percent.
Hand shucking comes next, which for their recent crop took about 200 hours. Once the buds and leaves are removed, the CBD oil is removed from the buds.
Dybdahl, who has several thick notebooks in front of him, shows a photo of one gram of hemp, which contains about 12.4 percent of oil.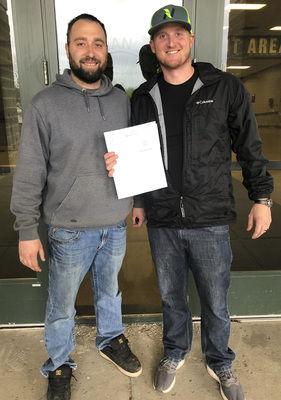 Samples are tested for their potency by Michigan Department of Agricultural Rural Development to make sure that it has less than 0.3 percent of psychoactive compounds, says Dybdahl as he show their the most recent report by the state approving their crop.
This isn't a black light in the basement or backyard business. BC Hemp Co., which is located in downtown Eau Claire, harvested 30 acres of hemp this fall, employs 14 people and have renovated several old buildings in Eau Claire that had been vacant for quite a while.
Currently, they have 20,000 square feet of drying space in Eau Claire and another 10,000 square feet in Coloma.
How are people reacting to their CBD venture?
The local community and the state agricultural department have both been very accepting and welcoming says Dybdahl, noting they also work with Andrews University biology and science department as well.
When it comes to cooking, they recommend adding the CBD oil to cooking oil to fry eggs, mixing it with butter to spread on bread, adding it to other ingredients like jam, or put some in soups, stews and even salad dressings.
"You can really do a lot with it," says Cindy Grewett, owner of Kitty Hill Organics, a farm in Dowagiac, who has created several recipes for BC Hemp and is working on more.
Grewett has known Piedt for a long time and describes him as a close friend.
"It's very exciting that these young people are staying in agriculture," she says. "I'm proud of them."
CBD is derived from the hemp plant, a cousin of marijuana, according to Cannabis & CBD for Health & Wellness by Aliza Sherman and Dr. Junella Chin.
But while marijuana has a valid medical component, it's also used as a recreational drug. That's not so with CBD, which according to a report from the World Health Organization exhibits no effects indicative of any abuse or dependence potential in humans. To date, there is no evidence of public health-related problems associated with the use of pure CBD.
Instead, as reported on the Harvard Medical School blog, CBD has been shown to be effective in treating such illnesses as epilepsy, including the severe childhood epilepsy syndromes, such as Dravet syndrome and Lennox-Gastaut syndrome (LGS), which typically doesn't respond to antiseizure medications.
In numerous studies, CBD reduced the number of seizures, and in some cases stopped them altogether. Recently the FDA approved the first cannabis-derived medicine for these conditions, Epidiolex, which contains CBD.
CBD is commonly used to address anxiety, insomnia and may help with both falling asleep and staying asleep. BC Hemp produces a muscle salve to help with pain and restless legs.
"I have an 8- or 9-year-old Pomeranian, with bad knees who had social anxiety and always hid when people came over," says Dybdahl. "The first thing we made were dog treats."
Dybdahl credits CBD with eliminating his dog's knee pain and anxiety. She now can take walks without pain and mingles with guests instead of hiding.
There's more to cooking with CBD than just adding some chopped up marijuana leaves, stems and buds to brownie mix. Grewett has created a CBD stir fry that is easy to make and the guys at BC Hemp Co. suggest CBD Macaroni & Cheese.
16 ounces uncooked elbow macaroni
2 tablespoons of CBD infused butter (roughly 50 milligrams)
1 teaspoon hot pepper sauce
1 cup mozzarella cheese, shredded
½ cup Parmesan cheese, shredded
½ cup milk or more if needed
Add macaroni, chicken broth, butter, hot pepper sauce, garlic powder, pepper and salt into an InstaPot. Properly close the lid and start cooking under the manual mode for five minutes.
When cooking is done, release the pressure before opening the lid.
Stir in the cheeses and milk until smooth. Serve.
Cindy Grewett's CBD Thai Veggie Stir Fry
1 package of dry Thai glass noodles
1 package of bean sprouts
1 shallot, finely chopped
6 small shiitake mushrooms, sliced
12 ounces of cut green beans
2-3 handfuls of fresh basil
¼ cup of CBD oil infused at 50 milligrams
3-4 teaspoons of soy sauce
1 tablespoon of lime juice
Boil a medium sized pot of water. Once the water is boiling, place the Thai rice noodles into the hot water, stirring the noodles frequently for about 10 minutes. Drain the noodles.
Heat a wok or large frying pan on the stove on medium heat. Pour in the ¼ cup of canna oil.
Cut the vegetables and prepare to place them to cook into the wok.
Add in your vegetables to the wok or frying pan once your canna oil has heated up. Stir the veggies so they become coated evenly in CBD oil.
Once the vegetables are cooked, yet a little crispy, add in the boiled noodles, soy sauce, lime juice, sesame oil, chili sauce and spices.
Add in the basil last, so it won't wilt. Cook the noodles and vegetables for about 5-10 minutes longer.
The Eau Claire Hemp Harvest Festival is 11 a.m. to 5 p.m. Oct. 19 in the village's downtown, and is a celebration of all things hemp.
Source: https://www.heraldpalladium.com/features/bringing-hemp-into-the-kitchen/article_29bb22cb-1743-5369-9ee0-fa17e87bd565.html