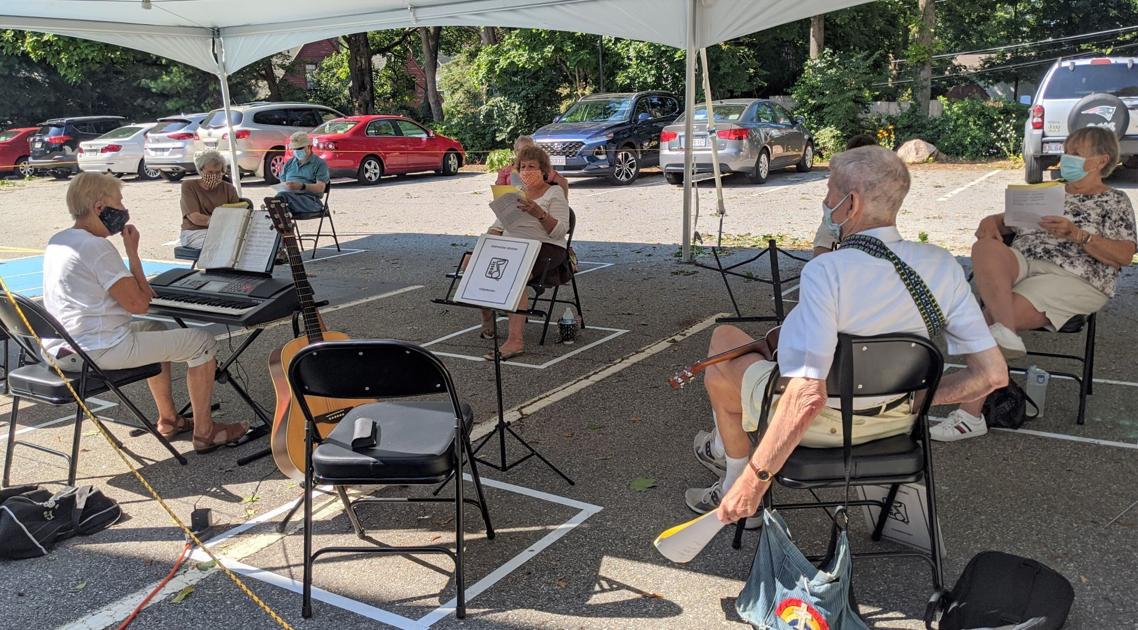 PAOLO DIGREGORIO HISTORY LECTURE ON THE COMMON
Join us on Wednesday, Oct. 14 at 5 p.m. on Foxborough Common for a history lecture by Paolo DiGregorio. The topic of Paolo's program is "We All Fall Down: a Brief History of Plagues, Pestilence and Pandemics." Life in the 21st century has come to a virtual standstill due to a global pandemic. Yet, this is not the first instance of disease impacting global civilization. In fact, throughout human history, infectious diseases have impacted and shaped societies and cultures. Empires have fallen and civilizations have declined due to destructive epidemics and pandemics. Paolo's lecture will examine several of these episodes. Registration for this program is mandatory so that we may comply with Governor Baker's Outdoor Event Regulations. Please bring your own chair.
CBD OIL – Fact or Fiction
Join Eddie Martucci, Parmacist from the Big Y Pharmacy Wellness Center, on Wednesday, Oct. 7 at 3 p.m. for an interesting talk about CBD oil. This talk will include discussion about the Hemp Farming Act of 2018, define CBD and the uses of CBD. You will also learn about the differences between CBD and THC, including the talk about claims backed by scientific data and medication interactions. There will be time for questions and answers. Seating is limited and so you must call to sign up, and learn how CBD can help you in your daily life.
HESSCO LISTENING SESSION
Sheryl Leary, Director of Planning and Community Development at HESSCO is conducting a community needs assessment and will host a listening session in Foxborough at the senior center on Wednesday, Sept. 30 at 1:30 p.m. HESSCO is the Area Agency on Aging and Aging Services Access Point for Foxborough and 11 other communities. Every 4 years, HESSCO develops an Area Plan that outlines how HESSCO will respond to the needs of older adults living in the HESSCO communities. This listening session will provide Foxboro residents the opportunity to share their ideas about the needs of older adults. Call us to sign up and reserve your seat.
CIRCUIT TRAINING – Under the tent
This 6 week program is designed to fight muscle loss and osteoporosis. Participants will work the major muscle groups to improve strength, stability, joint mobility and overall fitness. This program is facilitated by Steve Avellino and the cost is $42. The classes will be held at 9 a.m. on Thursdays, Sept. 24, Oct 1, 8, 15, 22 and 29. Space is limited, so you must register and pay in advance.
Q & A WITH THE TOWN MANAGER
Come join in a conversation with William Keegan, the Foxborough Town Manager on Wednesday, Sept. 30 at 12:30 p.m. The town Manager will provide updates on town proceedings and, if time allows, a Question and Answer session. Call us to sign up.
HAMILTON VIDEO
We have scheduled 2 additional video showings of the hit musical "Hamilton" on Thursdays, Oct. 1 & 8 at 12:15 p.m. If you haven't seen it yet, or would like to see it again, you must call us to sign up. This performance was filmed with the original cast in 2016. In an effort to enforce social distancing, we are limiting the showing to only 6 participants. Additional show times may be added if there is further demand.
MANICURES
Our manicurist Sheri Thorpe will be at the senior center on Tuesday, Sept. 29 beginning at 9 a.m. for 20 minute appointments. Sheri uses OPI products. The cost is $10. Call us to make an appointment and be sure to wear your face mask.
THE HATE U GIVE – Book discussion, inside
Please join our 2nd year intern, Victoria Ferguson, for this 6-week series to discuss the book "The Hate U Give" by Angie Thomas. This program will start on Wednesday, Sept. 23 and continue through Wednesday, Oct. 28. In this group, members will discuss the book's themes as well as relevant current events. This discussion group will be led by Master's Level Social Work student Victoria, and will be designed to have supportive but difficult conversations, process strong emotions, and discuss how we can make changes in our own community. If you are interested in attending this group, sign up early as spots are limited.
FRIENDS' BINGO – BRING A FRIEND – ALL WELCOME
Come and join us for Bingo at the senior center on Tuesday, Oct. 6 under our new tent, from 1:30 to 3 p.m. and every 1st Tuesday of the month. Win cash prizes in varying amounts. There is a nominal fee of $1 per card. Bring a friend! Call to sign up. This program is hosted by the Friends of Foxboro Seniors.
CHARLIE CARDS FOR SENIORS
The CharlieCard is the payment method for the MBTA. On Thursday, Oct. 8 from 11:30 a.m. to noon, the Foxboro Senior Center will be partnering with the MBTA to offer Senior CharlieCards for people 65+. These cards will allow you to have a reduced fare on the subway, bus, commuter rail and ferry. Call us to sign up.
BLOOD PRESSURE CLINIC
Blood Pressure Clinics are being held at the senior center on the 2nd and 4th Tuesdays of each month. The next clinic is on Tuesday, Oct. 13 from 9 to 11 a.m. and is being hosted by Deputy Fire Chief and Public Health Nurse Thomas Kenvin. These clinics are free. Call 508-543-1234 to schedule an appointment.
TABLE TOP GARDEN CLUB
Our Senior Center Table Top Garden club, under the direction of Marsha Lewicke, will continue to meet once again on Tuesday mornings at 9:45a.m. All are welcome and no previous gardening experience necessary.
S
ENIOR SUPPER
We will be resuming our Senior Suppers starting on Wednesday, Sept. 30 at 4:30 p.m. We will be limiting the seating to 10 to allow for social distancing. Masks will be required when not eating and you MUST sign up in advance. This event is free.
MOVE PAIN FREE – Under the Tent
This 6-week program focuses on four areas typically troublesome for seniors. We will activate muscles responsible for good posture, use unorthodox techniques to improve balance and confidence, examine the most efficient way to get out of a chair, and improve your ability to navigate stairs. This program is facilitated by Steve Avellino, CFT, CES. The cost for the program is $42, and classes will be held at 11: 45 a.m. on Mondays, Sept. 21 & 28, Oct. 5, 12, 19 & 26. Space is limited so you must register and pay in advance.
TAI CHI – Under the Tent
Tai Chi is a great traditional Chinese way of relieving stress. This gradual form of exercise involves a series of movements performed in a slow focused manner. Join us on Monday mornings for Beginner Tai Chi class at 10 a.m. or for Tai Chi class at 10:45 a.m. The cost is $3 per class and is punch card eligible. Thank you to the Friends of Foxboro Seniors for helping to fund this program. Space is limited, so you must call to sign up in advance.
WALKING CLUB
Join new friends as we travel together as a group walking around the Foxboro area. Our Walking Club meets at the senior center on Wednesday mornings at 10 a.m., and from there we leave on our chosen route for the morning. Call us to sign up.
SENIOR FITNESS – Under the Tent
Senior Fitness classes are held at 9:00 a.m. every Friday morning. This class uses stretching, aerobics, and hand-held weights to focus on exercising the body from the neck to ankles. Senior Fitness is designed for all ability levels. For the time being, this class will be taught by a teacher courtesy of the YMCA. Space is limited so you must call in advance to register for each class. The cost is $3 per class and is punch card eligible.
KNI
TTING CLUB – Under the Tent
The knitting club meets every Monday at 1 p.m. and is for beginners as well as those who would like to brush up on their skills or work on a project. Please bring your knitting needles and yarn.
S.H.I.N.E
You can obtain health insurance information and assistance through the SHINE (Serving the Health Information Needs of Everyone) Program. A SHINE counselor is available on Tuesdays, from 3 to 6 p.m. for a "virtual" meeting over the telephone or on a Zoom meeting.
The program provides free and confidential health insurance information counseling and assistance to Massachusetts residents who are or will be eligible for Medicare and their families.
Call for an appointment.
For more information on Council on Aging & Human Services programs and services, check our website at www.foxboroughma.gov or call at 508-543-1234.
Source: https://www.thesunchronicle.com/foxboro_reporter/rail/around_town/history-lecture-planned-for-foxboro-common/article_a5806f00-edc8-5300-b75c-02959f2debfa.html