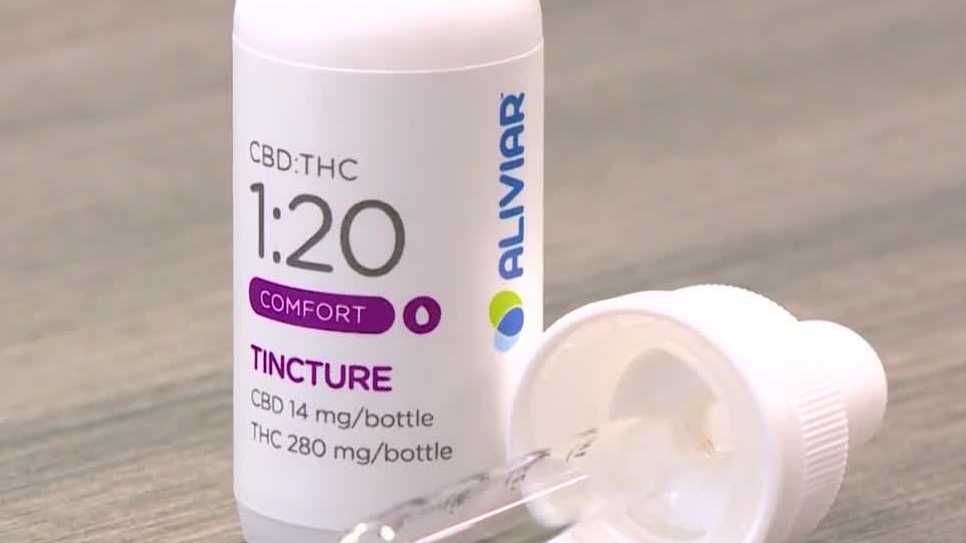 Iowans suffering from chronic pain are one step closer to receiving medical cannabis as treatment.The Iowa Medical Cannabidiol Board met Friday for the first time since Gov. Kim Reynolds vetoed legislation expanding the program.Board members voted to let patients suffering from chronic pain qualify for the state's medical cannabis program."I tried CBD for the first time and within a week or two, I felt like I had my life back," said Tyler Rice, a former police officer. "I felt normal again. It was unbelievable."Rice drove from Cedar Falls with the hope his success with CBD would sway the Iowa Medical Cannabidiol Board to vote to make PTSD a qualifying condition for Iowans to legally be treated through state's medical cannabis program."I was a police officer," Rice said. "I arrested people carrying marijuana. Ultimately, they were put in prison for taking marijuana."The board voted to wait to until November to decide on allowing post-traumatic stress disorder to be treated with CBD, citing the lack of long-term medical studies.The board denied allowing anxiety disorder, OCD, schizophrenia and opioid dependency to be added to the list of conditions approved for CBD use.From here, the decision will go to the state medical board for approval. If approved, Iowans suffering from chronic pain will get access to the state program.Representatives from MedPharm argued the medical evidence already exists to expand the program beyond chronic pain.Rice said the mere fact he stood before them is proof of the long-term benefit CBD can have."The long-term effect for me will be to here for my kids and (that I) will be able to walk my five daughters down the aisle," Rice said.Board members took a moment to point out their decisions do not represent their personal opinions and are based on medical evidence available.Iowans also asked the board to consider raising the amount of THC available in products to make them more potent.MedPharm Iowa concerned about future of state's patients, CBD legislation
DES MOINES, Iowa —
Iowans suffering from chronic pain are one step closer to receiving medical cannabis as treatment.
The Iowa Medical Cannabidiol Board met Friday for the first time since Gov. Kim Reynolds vetoed legislation expanding the program.
Board members voted to let patients suffering from chronic pain qualify for the state's medical cannabis program.
"I tried CBD for the first time and within a week or two, I felt like I had my life back," said Tyler Rice, a former police officer. "I felt normal again. It was unbelievable."
Rice drove from Cedar Falls with the hope his success with CBD would sway the Iowa Medical Cannabidiol Board to vote to make PTSD a qualifying condition for Iowans to legally be treated through state's medical cannabis program.
"I was a police officer," Rice said. "I arrested people carrying marijuana. Ultimately, they were put in prison for taking marijuana."
The board voted to wait to until November to decide on allowing post-traumatic stress disorder to be treated with CBD, citing the lack of long-term medical studies.
The board denied allowing anxiety disorder, OCD, schizophrenia and opioid dependency to be added to the list of conditions approved for CBD use.
From here, the decision will go to the state medical board for approval. If approved, Iowans suffering from chronic pain will get access to the state program.
Representatives from MedPharm argued the medical evidence already exists to expand the program beyond chronic pain.
Rice said the mere fact he stood before them is proof of the long-term benefit CBD can have.
"The long-term effect for me will be to here for my kids and (that I) will be able to walk my five daughters down the aisle," Rice said.
Board members took a moment to point out their decisions do not represent their personal opinions and are based on medical evidence available.
Iowans also asked the board to consider raising the amount of THC available in products to make them more potent.
MedPharm Iowa concerned about future of state's patients, CBD legislation
Source: https://www.kcci.com/article/iowa-board-approves-use-of-cbd-for-chronic-pain/28591304